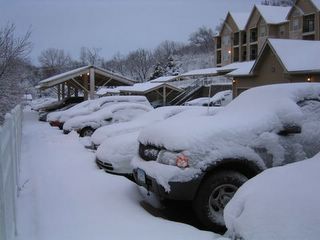 the heat of jakarta made me really boiled today. and, how things changed when i, mentally, cooled down myself by looking at this picture sent by someone i love.
i was in surabaya last week, and, boy, the city was warmer than jakarta, when i remembered the winter season in the land of snow.
in the deep of january, the coldest month of winter, i would wake up at 6 in the morning still dark and cold outside to prepare to go to work. went out from the warmth and coziness of my apartment was the hardest part of the day. it was getting harder when the first bitter cold air hit your skin face and the howling wind of winter just brushed your bundle wrapped body mercilessly.
well, it didn't stop there.
got to warm the car up and waited for the heater working to warm up the interior of the car. when the snow accumulated, of course, you have to clean it up in order to drive your car. 3 inches snow would make you do some work out. 6 inches snow like the picture above would make you do some cardios without going to the gym.
above all the hassles, inhaling the purest oxygen and breathing the cleanest air the season can offer was just priceless. nothing beats the beautiful season of winter.